Our Mystical Mythological Nature
YOUR TRUE PROFILE – a key to your purpose
It this life meant to unfold as an Investigator Guru? Or Hermit Teacher? Perhaps a Heretic Buddha?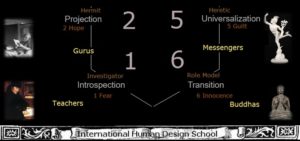 "It's about understanding the drama of a life, the drama of a mind that makes up the story of our purpose, and the story of our purpose that is found within the profile." Ra Uru Hu
The profile is a key; as it is here we begin to see the costume; the way people are 'dressed'. When we start the process of deconditioning – of realigning to our true self, we will often experience that our costume doesn't fit properly.  Living life from flow and ease within our unique true self is a process that takes time… and grace… and seeing that we're something very, very specific.
In Ra Uru Hu's mystical courses, his intent was for us to:
understand that we are mythology,
to grasp the uniqueness that we are,
to see there's nothing like us &
to see that we're an essential ingredient to the whole.
There's a profound magic, to live out what that is; to not live out a life as a homogenized 'everybody' in the 'everybody' life.
We each have wonderful possibilities. We can see this in the mapping of our design. This then gives us impetus and courage to stay with our process; to watch as the costume fits better and better. "Understand your cross, your purpose; you do not find it, it takes you." Ra Uru Hu
Attend The First Class For FREE:
Want to have a sampling of the Rave Cosmology knowledge?
You are invited to attend the first class of the 'Profile, Purpose and Function' for FREE!
Hurry and send a mail to office@ihdschool.com to register for the first class, as the live, online course begins this week!
Live Online Rave Cosmology Course
Starts January 17, 2018 – 10 Classes
Schedule:
Wednesdays at 8:00am US Pacific Time PST
16:00 GMT
Finishes: March 28, 2018
Break: February 28th